The BEST popcorn in Arizona & worldwide! We "hand"craft our gourmet, air-popped popcorn in small batches using only the best ingredients. Hand-made, hand-packed.
We use REAL butter and REAL cheese (no powdered stuff here). We use no preservatives. 
Our resealable bags and air-popping allow for our gourmet popcorn to stay fresh 4-8 weeks. We know that after the bag is opened, you won't be able to control yourself. It's so light and it's easy to get carried away. It's ok. Don't feel bad, just get ready to order again. Did you share any of it with anyone?  Maybe next time, you can share (only if you feel like it). We just want your friends to know that Purple Gurl's air-popped popcorn has made you so happy and then they can order and be happy TOO!
Shipping is as follows:
We are now shipping all over the continental USA.
Once we receive your order, it will take up to 24-48 hours to process & ship your order (sometimes same day). We do not ship anything on Sundays or holidays.
USPS Priority Mail - Delivery in 1, 2, or 3 business days
Some websites increase the product price to include shipping. Our shipping quotes are real-time calculated based on your order's shipping weight plus the zone of the address you provided. We will use USPS to mail your order so that you receive it according to the estimates above. We will send you a USPS Tracking number to build up your anticipation!
CAMPUS CARE PACKAGE:
Would you like to send a care package to your college son/daughter who attends a college? Purple Gurl's popcorn will bring smiles to his/her face!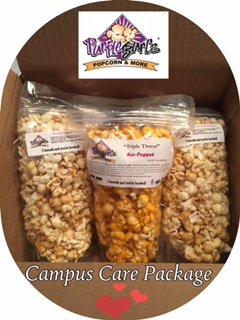 Fundraising
We have worked with many charities, local schools, and non-profit organizations. There is no minimum for your fundraising order, nor are there upfront costs. Contact us directly by phone or email us for more information. We are proudly able to give 50% of the profits back to you.
Home Page pics 
Silver doily cones with purple popcorn - Photo Cred: honeycomb-events.blogspot.com
Pinterest – Popcorn Bar & Candy Buffet – Monte De Oro Winery – uploaded by Judy Horn